Misconception about the "Psoas Tightness" test
Posted by Paul Zaichik on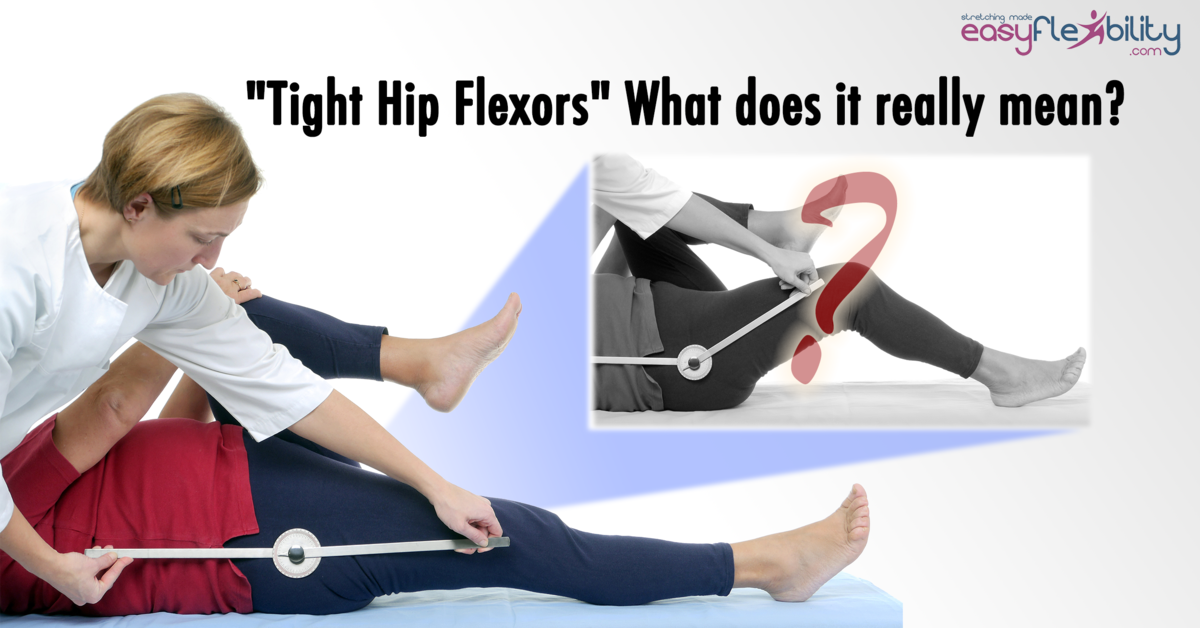 Today I am going to talk about some misconceptions about hip flexors flexibility testing even among professionals.
The standard approach to find out if the "Psoas" is tight is to somehow make sure that the Rectus Femoris isn't (tight).
It's like having 10 people in the room, and someone broke a vase. You assume if it's not person 1, it has to be person 10. What about persons 2-9? Why couldn't they have done it?
Same goes for the "Tight Psoas" Test.
I see physical therapists, massage therapists, fitness trainers place a person on the table in supine position. The table ends under the knees, so that the lower leg hangs off the table.
They ask them to pull one knee into the chest.
They assume that if the hamstrings rise off the table with bent knee, the culprit is the Rectus Femoris. And if the knee extends and the hamstrings moves lower to the table, it's Psoas.
The problem with that test is that, just because it's not the rectus femoris, does not mean that it's psoas.
Simply because everyone heard of Psoas, does not mean that it's guilty...
There are other muscles that can prevent hip joint from extending:
Tensor Fascia Latae
Pectineus
Sartorius
even Psoas' best bud, the Iliacus.
Adductors also flex the hip, but unless there is a serious issue, we can exclude them if the legs are adducted.
The problem is, even if Psoas is tight indeed, one will try to stretch the Psoas by:
Either dropping the leg off the table (usually with bent knee), which goes against the (if the leg is bent, it's the rectus femoris that is tight) principle.
Or doing a lunge stretch, which can get multiple muscles in one shot and if any of them are tighter than Psoas, they will block the Psoas from being stretched.
So how does one stretch the Psoas or any other muscle without having another muscle(s) get in the way?
Here is the answer. Every muscle is unique. Every muscle does something different. For example there is no other muscle that does what Psoas does. Same way there is no other muscle that has the same actions as Pectineus, Sartorius, TFL, etc.
Knowing the kinesiology of the body, (Zaichik Stretching Technique, formerly known as Kinesiological Stretching Techniques is based on the science of kinesiology) allows to isolate each muscle and stretch it separately.
Often practitioners spend a long time stretching a muscle, with a technique that does not actually stretch it and they get no results.
If you are interested in a very unique Hip Flexors Program, see it here:
Do you want to finally double the flexibility on your hip flexors in just 3-4 weeks?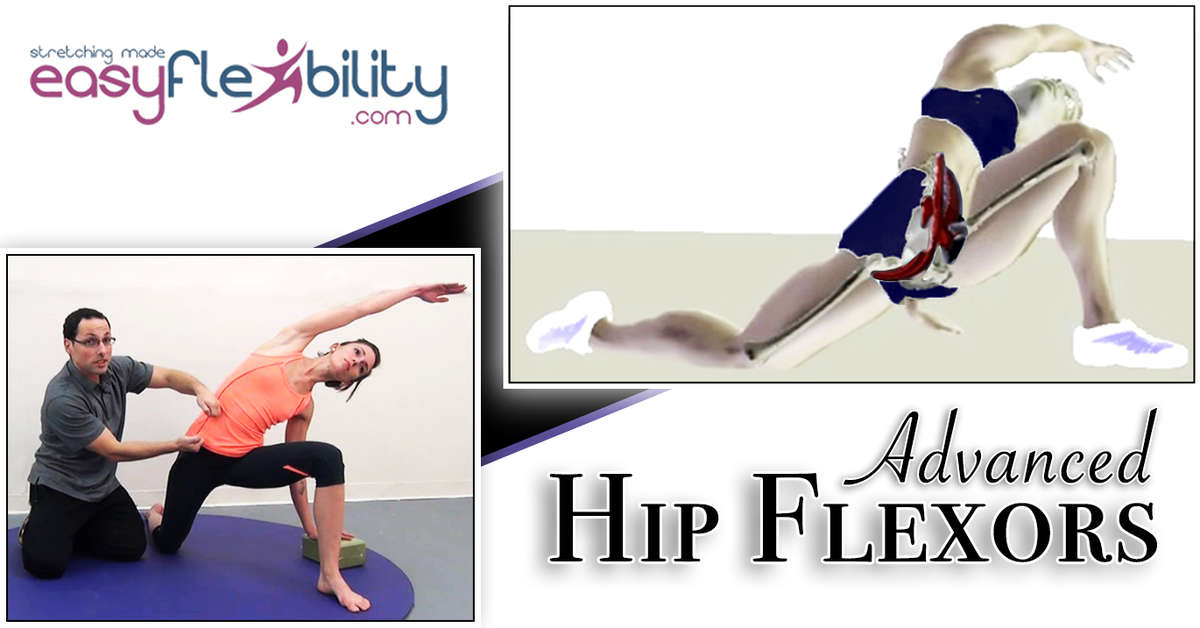 Flexors of the Hip Joint are often the tightest muscles in the body. Very few people have true length in these muscles.
Did you know that most people who seem well stretched in their hip flexors, are really not?
Can you think of anyone whom you know that has flexible hip flexors?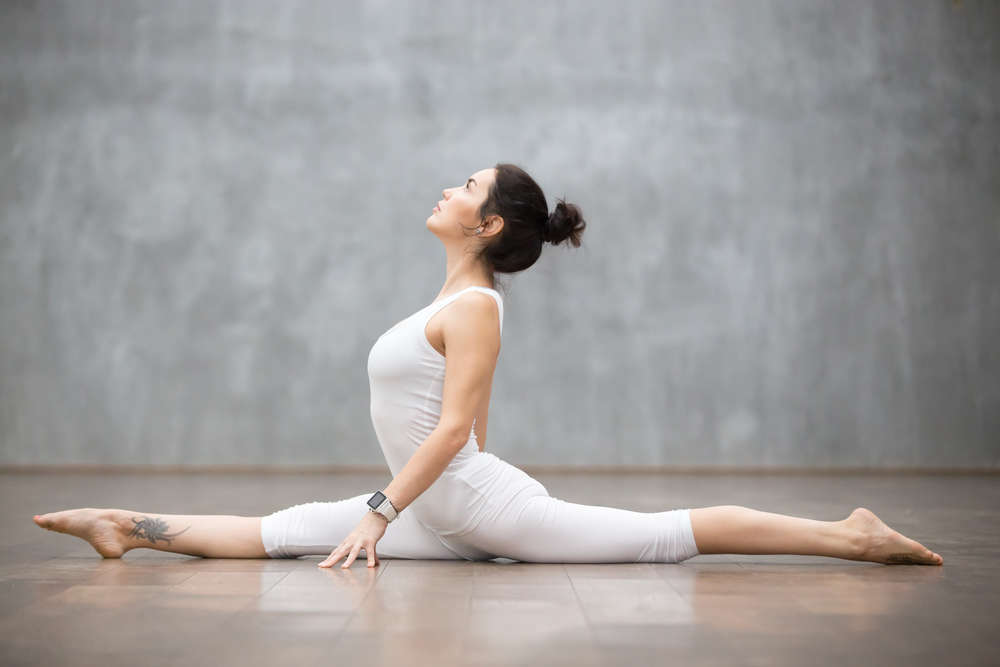 Perhaps, they can do this: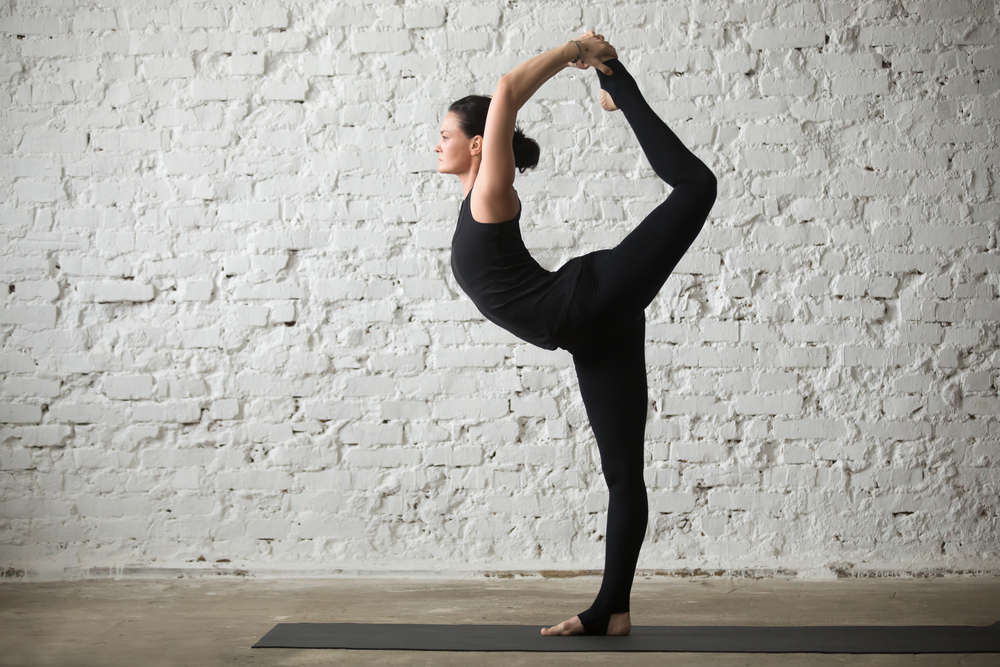 Or Perhaps, they can do this:

Yes, the hip flexors are naturally so tight, that the body has created many ways to compensate for the tightness.
Does this mean, it's ok to have tightness in flexors of the hip? Of course not. The problem is, that everyone is trying to stretch them the wrong way, and instead, end up stretching everything else, as you've seen demonstrated in the two pictures above.
If you want to stretch these elusive muscles, you need to isolate them:
There are 6 hip flexors and 4 adductors and all of them flex the hip.
Too much to stretch all at once.

How do we know what we are talking about? Because, stretching and flexibility education and research is what we've been doing for many years.
Stretching the tightest and most problematic muscles is our forte. And we do it absolutely and completely differently than anyone else.
This hip flexors program is truly unique. It builds up on the previous one. (Thousands of people have extreme flexibility in their hip flexors from using our regular hip flexors program).
This video takes an already very fast and effective Zaichik Stretching Techniques and enhances them with "modalities" for even faster results.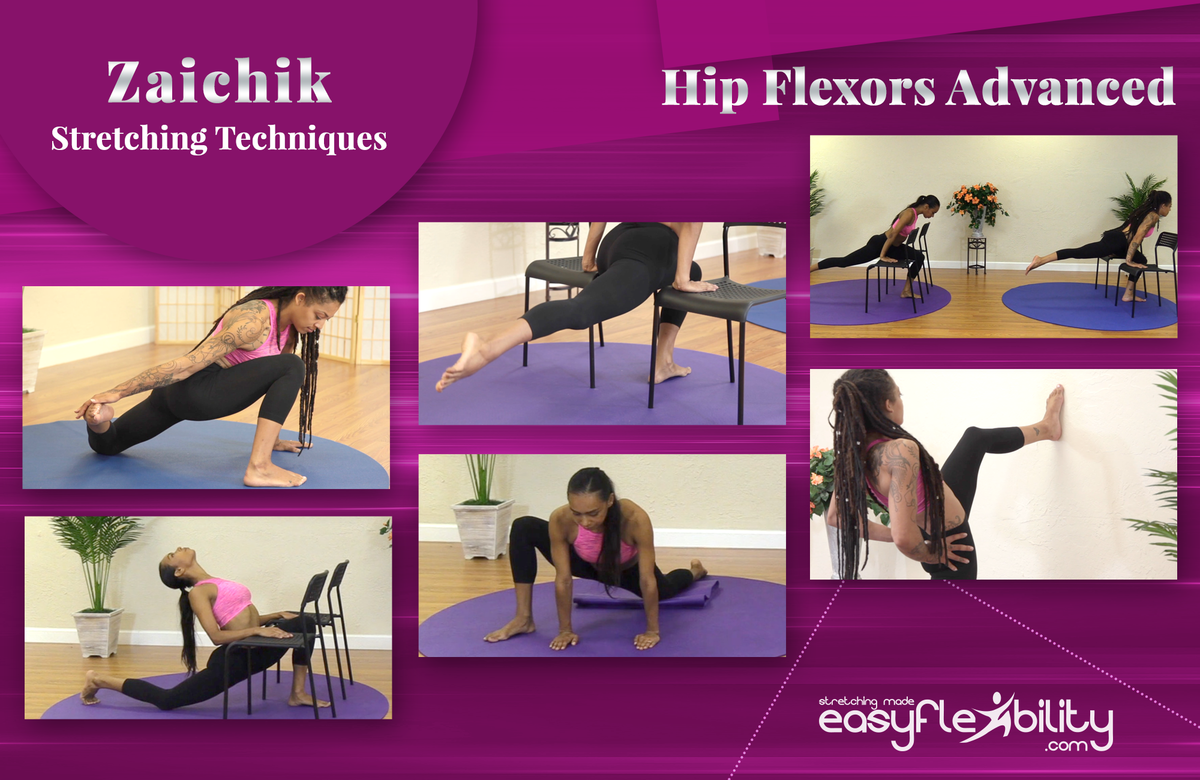 ZSTs (Zaichik Stretching Technique) for each of the 10 muscles that flex the hip.
Complete Follow Along Program (All the guess work is taken out).
Full Explanation of Each Technique (so you know exactly what to do).
3 Separate Files:
1st- file without explanation for fast pace,
2nd- file with explanation for first time students,
3rd- file with just explanation for quick look up and reference.
Modalities (special addition to ZST to make the muscle stretch even faster and easier).
A one hour class with a ZST Certified Instructor costs $75-$150 (depending on location and experience).
With this program you can have an instructor in your living room, whenever you want to stretch.
Working at your own pace, with all the needed techniques for your hip flexors stretching at your fingertips.
The Advanced Hip Flexors Program cost is $60, but you can get it with an introductory discount of only $34.95.
There are more reasons to stretch your hip flexors besides athletics.
1. Tight hip flexors are known to cause lower back pain.
2. Lack of flexibility in this group of muscles put severe pressure on the hamstrings, often causes hamstring pulls.
3. Tension in hip flexors inhibits the work of glutes, making them weaker.
4. Hip flexors rigidity forces the pelvis into a dangerous tilt position.
Check out the RESULTS customers are getting!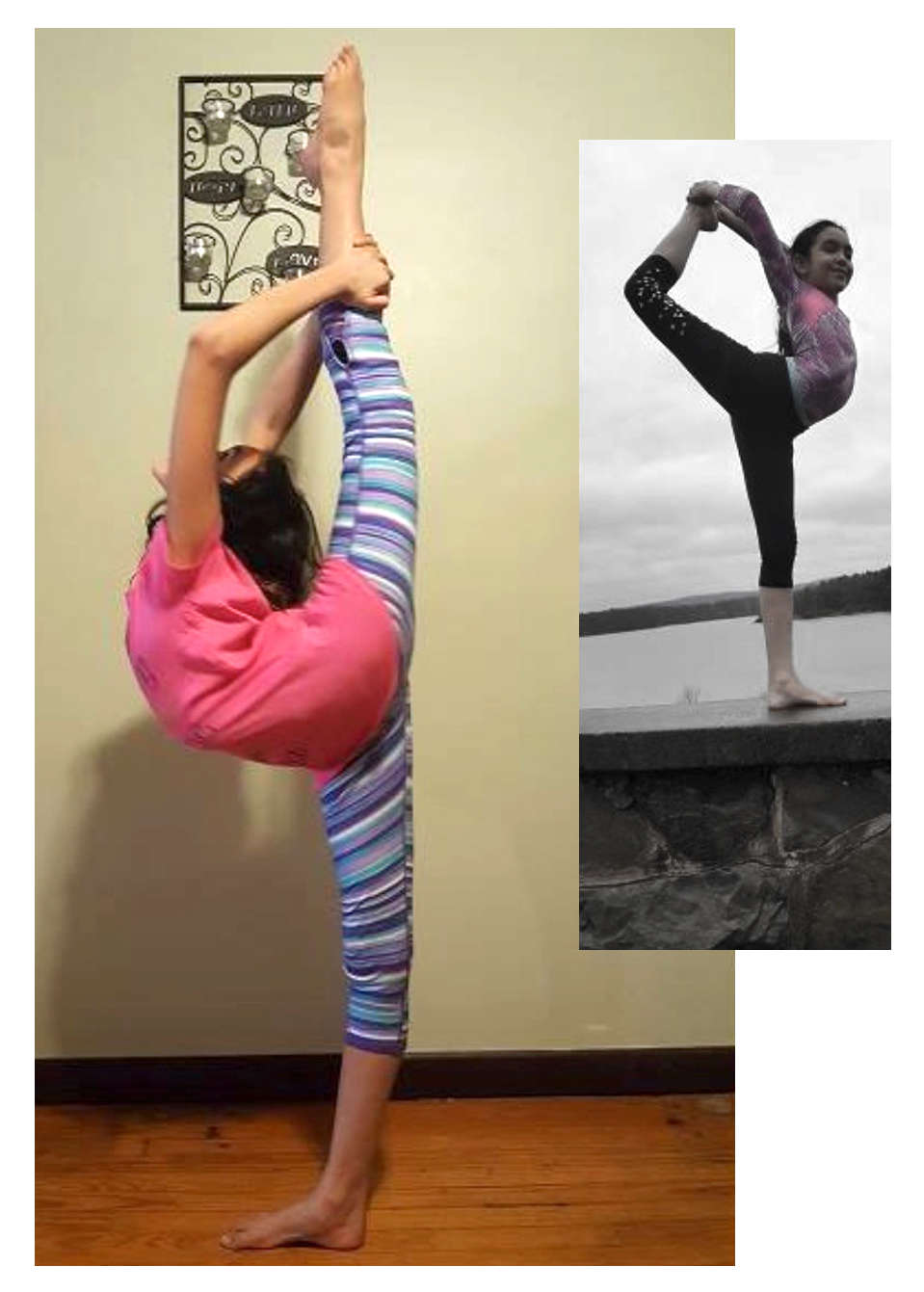 I was really able to speed up my progress and get my over-stretches.
I have to thank EasyFlexibility for the Hip Flexors video! I have been dancing since about 6 years old now I am 11. Last year my parents bought me the video and it is amazing. I was really able to speed up my progress and get my over-stretches. It was much less painful too! This is the best I could do a few months ago and the needle is what I can do now!
- Acro Allison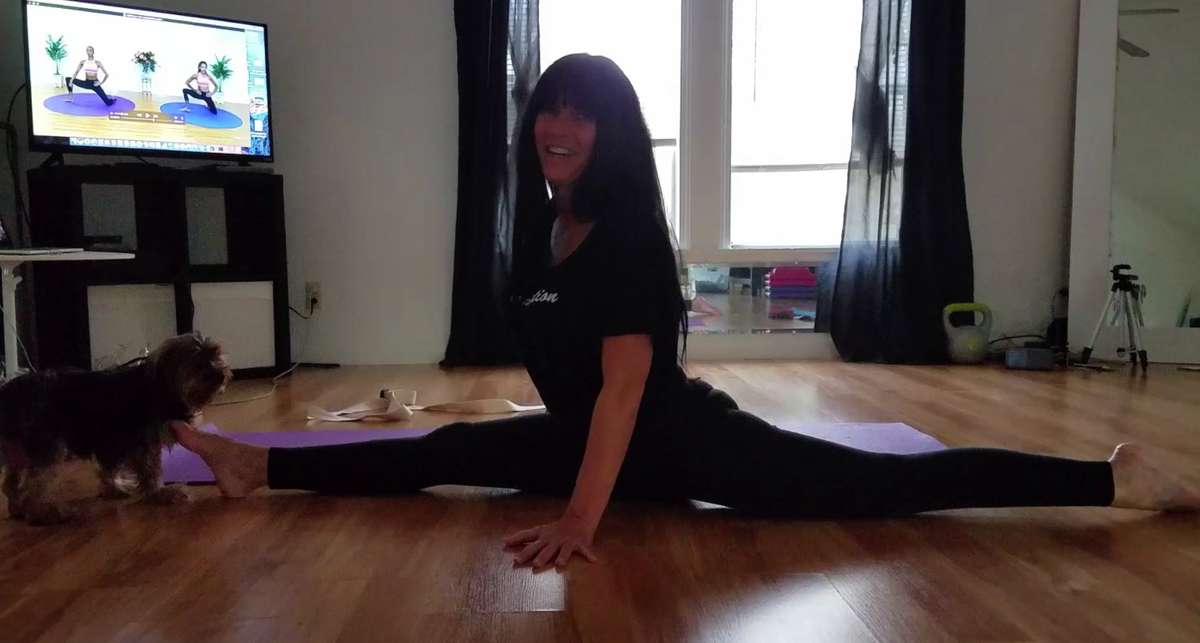 I can feel it, I feel very flexible!
I have gone through 2 rounds of the program. This is my split after it. My hip flexors are extremely lose right now. I can feel it, I feel very flexible!
- Gina Belli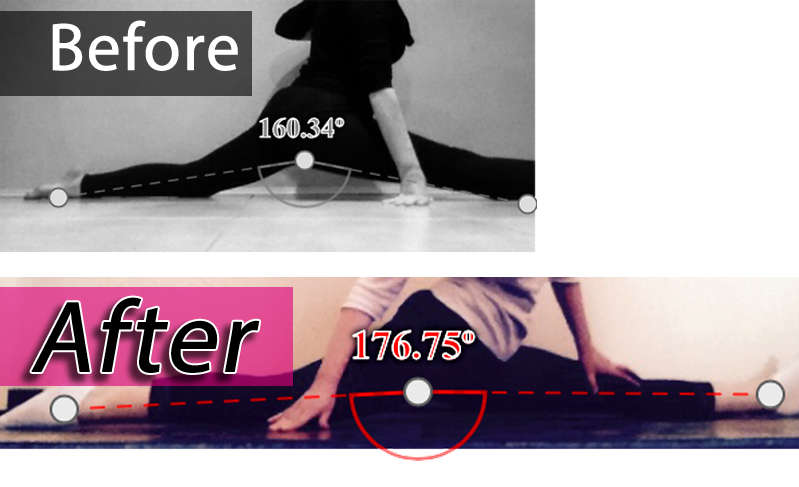 "ZST is more gentle than other stretching techniques and at the same time it works faster and easier."
I've always had tight hip flexors and when I
decided to try this technique, I
knew that I will need to start with the hip flexors program.
The first thing that I noticed is that for the
first time my hips didn't feel like they've been
to war the day after a stretching session.
ZST is more gentle than other stretching techniques
and at the same time it works faster and easier.
I absolutely love the strength exercises, my
body feels stronger and more balanced and my
flexibility is there when I need it. I'm
looking forward to go even further."
Kind Regards,
- Lily (Lilyana Kamenova)
If you are serious about improving your muscle and joint health and unlocking this piece of the puzzle this program is a must!
You can also take advantage of the Hip Flexors combo!
...which comes with 3 programs:
1- Hip Flexors Beginner/Intermediate Level
2- Hip Flexors Advanced Level
3- Self Pressure Massage, to speed up the progress
Save over $50, and get the combo for only $54.95.
---
Share this post
---
---
---