Ready to get started? Thousands of people worldwide have achieved the same results you're dreaming about and you can too!
" is an excellent stretch program. It is completely different from what I have ever tried. The stretches are explained and demonstrated in an easy to follow way. I feel much looser after each stretching session. Thank you ! " Bob R.
Back Bending Beginner

Developing and maintaining good Back Flexibility is an important factor in many sports. It's no wonder that people who can do this position well are known as having 'cat-like' grace. There's something very impressive about being able to demonstrate such level of agility.


Of course, this kind of flexibility doesn't come easy. So many people complain from insufferable back pains and joint discomfort when attempting a back stretch. But it doesn't have to be this difficult.


And the best part is everyone can benefit from mastering the Back Extension - dancers, gymnasts, figure skaters, wrestlers and all sport aficionados need good back flexibility to be able to perform well in their respective field. You can't go wrong with this program!


The proprietary Zaichik Stretching Techniques we use guarantee quick and painless results. You'll achieve a level of flexibility you didn't think was possible. Not to mention all the added health benefits!
Let us show you how you can dramatically improve your Back Flexibility,
steadily, safely, painlessly and quickly with the use of the ZST.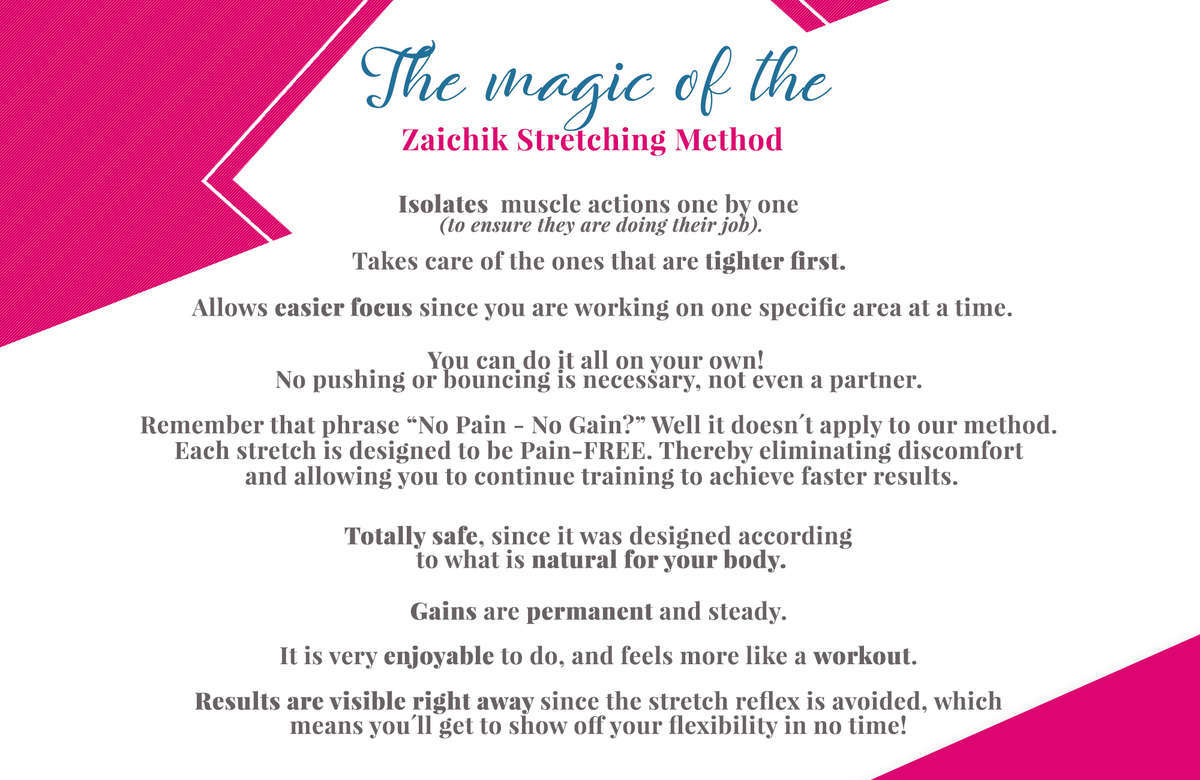 You can start right now! This program is online! -You can watch from any device. - Get support from our private group of students. - Lifetime access. Here's what you'll get:
A online video containing the follow along routine plus explanations before each exercise.
The routine contains joint mobility warm-up, conditioning exercises to prepare your muscles , Zaichik Stretching Techniques for each single muscle involved, strength and supporting exercises and a cool down section.
LifeTime Online for you: - You can watch from any device.
- Get support from our private group of students.
- Lifetime access.
Which Package is Best for YOU?
If you'd like to focus on your back flexibility only, and do not wish to take advantage of any other special combos. You can get your back bending beginner program below.
Six unique training routines at a special discount. This package contains everything you'll ever need and want to excel in what you love: dancing. Students and instructors alike prefer the Complete Hip Combo, as an amazing asset in their dancing improvement arsenal.
Stop wasting time and money, risking your health, hitting plateaus,
wondering how to reach your goal instead of working towards it!

Start your EasyFlexibility Back Bending Beginner Program right NOW and
start your journey to a healthier, more balanced lifestyle right away!

Take Your Skills To The Next Level!
Pick your training program below:
---