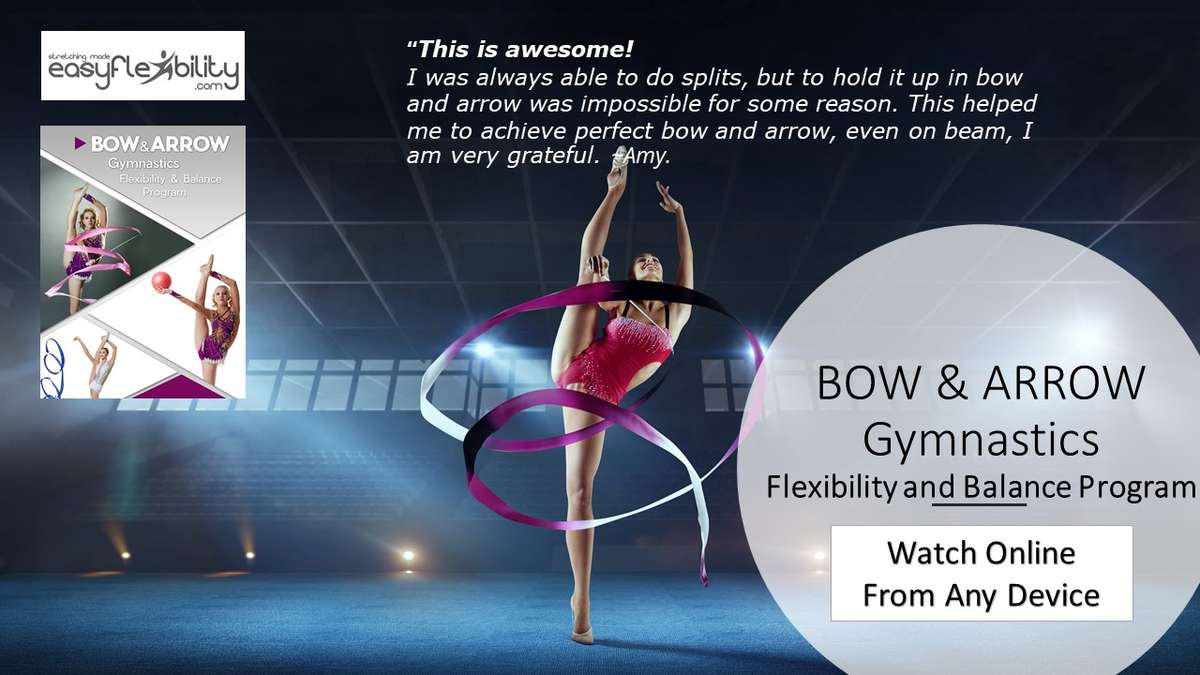 Bow & Arrow
Standing Side Split or a Standing Open Front Split is a technical terms for various sports and athletic activities.


Bow & Arrow pose depends mainly on the rotation of the supporting leg. In the sport of Figure Skating this position is called the I-Spin or the Y-Spin. In Cheerleading it's named the Heel Stretch or Bow and Arrow for the Flyer.

Other disciplines such as Yoga, Dance, Martial Arts and Gymnastics often employ this position.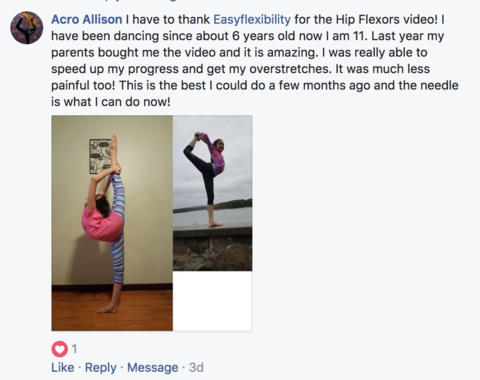 Athletes naturally choose an Open Front Split or the Side Split as the base for this technique.


The choice usually depends on their ability to do one split or the other while on the ground. A standing Open Front Split can quickly be turned into a Standing Side Split, if the supporting leg turns out.


To do this position you must train the right way!
In our EasyFlexibility Bow & Arrow program the pose is broken up into muscle groups. Each muscle group is stretches using patented techniques. These techniques use action vs action of the same muscle. This application avoids the pain of the stretch reflex, allowing for much quicker and safer flexibility gains. Having lengthened each tissue by itself, the pose is put back together. Most people see amazing results just after the first time of trying this program.
Take a look inside the EasyFlexibility Bow & Arrow Flexibility Program:
Ready to get started? Thousands of people worldwide have achieved the same results you're dreaming about and you can too!
I have been a professional dancer for over 10 years this DVD is now part of my training regimen I had an average turnout, but with use of this program, I have seen amazing results. My body is in correct alignment and my knees are not stressed out, because my turnout is coming from the hip. Thank you Easy Flexibility, it feels great to do a Grand Plie !! Mary Ellen Valenti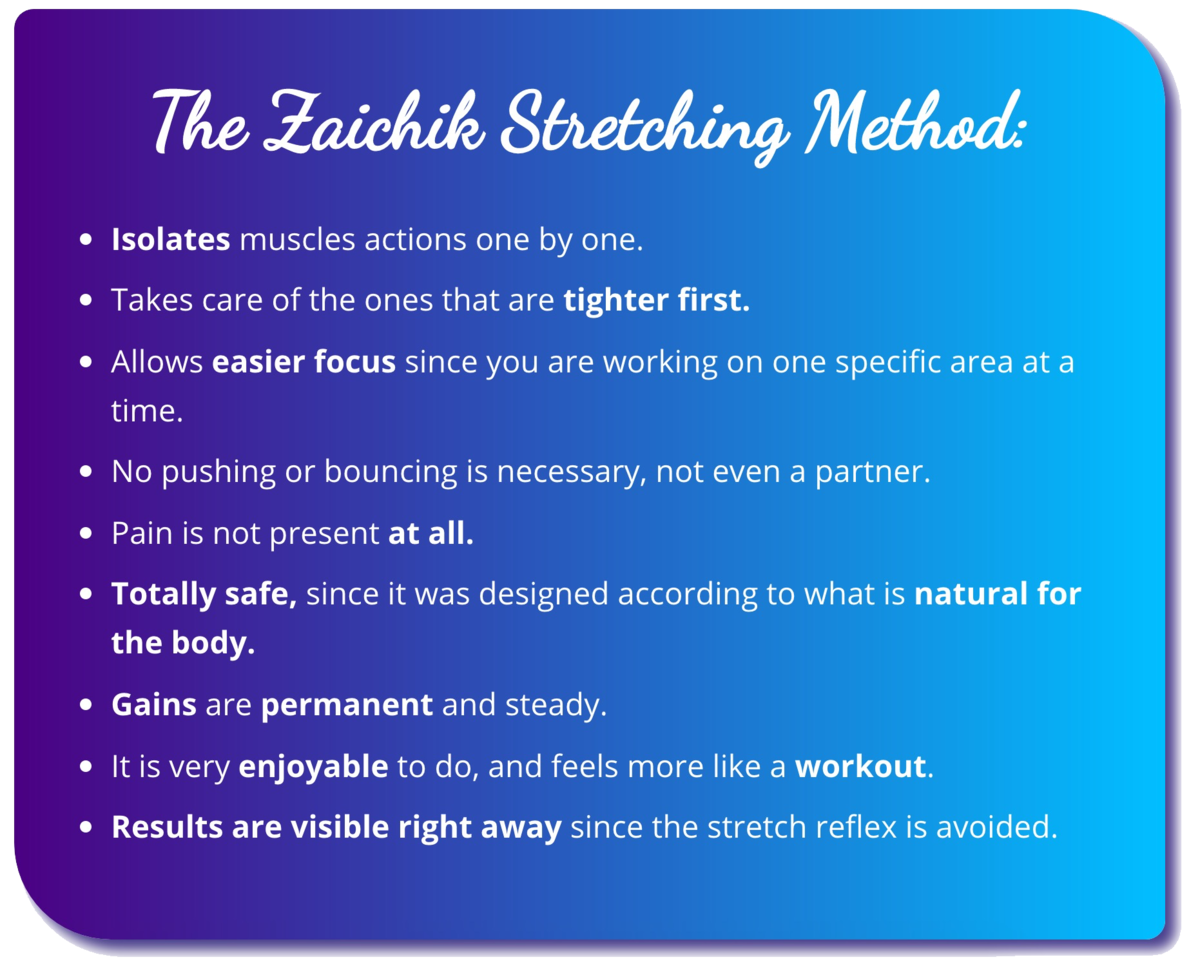 You can start right now! This program is online from any device! Here's what you'll get: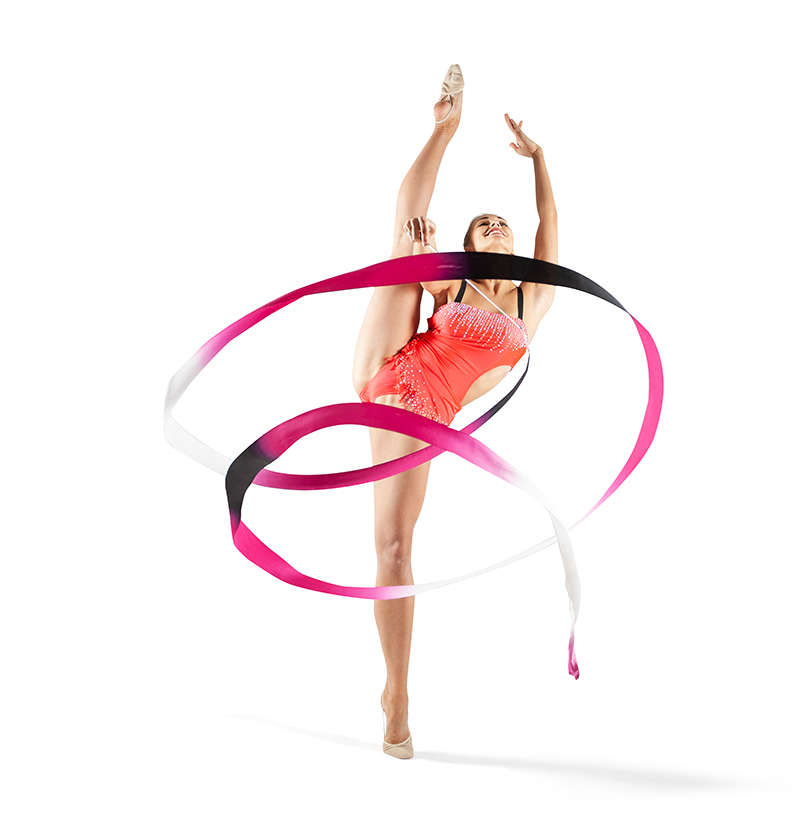 Video 1 : An online video containing a follow along routine plus explanations before each exercise. (duration: 43 minutes).
Video 2: Video without explanations to follow along without interruptions.
Video 3: Explanations only video to review the techniques outside the routine.
Stop wasting time and money, risking your health, hitting plateaus,
wondering how to reach your goal instead of working towards it!

Start your EasyFlexibility Training Program right NOW and soon
it will be YOU dancing like a star, flawlessly, effortlessly, perfectly!